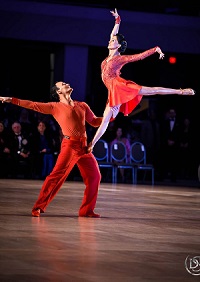 She was also a very big help, not only with our dancing, but also with the personal side of our relationship. She is our secret angel, she came to us at a very important time in our relationship together. Things were not all that great with us at that time. Competing was stressful, teaching, talks of building a future together, all the things we dancers do when you are in love with your partner. She really helped us to gain a new and better understanding of ourselves and how we were relating to each other. The time we spent speaking with her was instrumental in getting us closer to our dream of being together in the dance industry."
Clifton Sepulveda & Mar Martinez
2017 Ohio Star Ball Cabaret Champions, World Master Cabaret Champions, 5x USA Finalists, Blackpool Finalists
Michael and Melissa
Grapevine, Texas
"Just letting you know I got back from Japan several days ago. Had the most wonderful, magical time. I got along OK with my dance partner. It was your words which I wrote down over the phone that day that really helped. I brought that with me on the plane. You took your time to answer and asked questions and thought carefully about your answers. That meant a lot. Susan, I could not have done this without you and Jesus. It took a lot of faith and letting go of fear. It worked. Will be in touch in a bit about further formal sessions."
Sincere appreciation,
K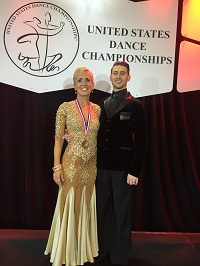 "I am not sure if you remember me but I had sent you a couple of e-mails about dancing and my lung cancer. I am from New Canaan, CT but live in NE FL most of the year. I just received the new Dance Beat newspaper in the mail and just read your recent article about faith in our lives. It is so ironic that many times when I have read your articles I can relate SO well to events in my life.
I had my CT scan at Smillow Cancer Hospital at Yale two months ago to check on the tumors that are on my remaining upper lung. We have been monitoring the growth of the tumors every six months since I had the upper left lung lobe removed due to a cancer tumor three years ago. I was told in July that surgery was inevitable and that we needed to plan to have my upper right lung removed. I have been sending my lung surgeon pictures and statistics of my dance competitions over the past three years. He knows my love of dance and that I have a very high physical activity level. I am turning 60 next week and he wants me to remain as active as possible for as long as I can before he operates. He said that after the operation my lifestyle will be extremely compromised. He took my case to the "tumor board" and they all decided that it was safe to wait until next summer to operate. He said that he would give me until next summer to continue to dance and to go to my daughter's wedding in July then we would repeat the CT scan and schedule the surgery. As you can imagine I was quite upset but after having a "pitty party" for myself for a week I knew that I had to trust God and move on enjoying my life.
Last week we competed at the USDC where I had won the Bronze American Smooth Title last year. I am new to Silver and have only danced in four competitions so far this year in Silver Smooth. The first day at USDC I prayed with a dance friend and told myself that I was dancing for God since I knew it would most likely be my last USDC. We had four heats of first rounds, then quarters, semi's and we made it to the finals!!! In the finals I just went out on the floor with God in my heart and used my deep breathing techniques to relax. My teacher and I WON the Silver Smooth title and we were both sobbing with tears of joy. I know that God was with me and I am so blessed to have this gift of dance in my life!!! We went on to place third in Bronze Latin, second in Bronze Smooth and won the Bronze ten dance on our final day!!!
When I told my friend who prayed with me later that I was so sad about my cancer and how it was going to take away my dancing in competitions she said that she didn't believe it would happen. She said that a vision came to her and she told me to write down the word CANCER. Then she asked me to draw a line down the C and make it a D!!!! She said she knows that God will continue to have me be a DANCER!!!! Even after my next surgery I am sure that I will dance in some fashion. When I read your article it was SO very inspirational. I will do what you did and put up my dance pictures, visualize myself as dancing again and I know that I will surprise my doctors.
At this competition I had more people coming up to me saying that my smile lights up the floor but that they couldn't put their finger on it but there was something deeper that seemed to be driving me. Little did they know that it was my gratitude for being SO very thankful everyday that I am able to live my life. I just wanted to update you and to let you know that your words and story continue to touch my life!!!"
Regards,
Susan Cruickshank